Farmers Market Challenge!
When someone is living off SNAP, they can turn their $5 to $10 worth of Fresh Bucks at most of Seattle Farmers Market locations. That gives everyone an equal access towards local fresh produce and supporting each other's community at the same time. When you combine this with shopping wisely and cooking your own, it's a great way to bring healthy meals at home! There are plenty of tips online on shopping the market with a budget and I follow them as much as possible but then I always fail. So today, I wanted to challenge myself and head to the market with a $20 budget in mind for both me and my husband...
Walk to the Farmers Market!
We drive too much in this world. No one ever considers walking anymore because of time. It's more convenient to just drive a block away and sometimes, the weather plays a factor too. I mean who wants to get soaked in the rain without an umbrella, right? This is why my favorite market is the one in my own neighborhood and I can use my umbrella when it rains. As much as online guides tell you to visit more than one market to find deals, if you have to drive there, don't compare deals! If you take the bus, then go save yourself some money and visit all the markets you can with your bus pass! But if you add it all up, wouldn't it make more sense to save a trip from your gas-powered car and have a "free" walk to the market instead?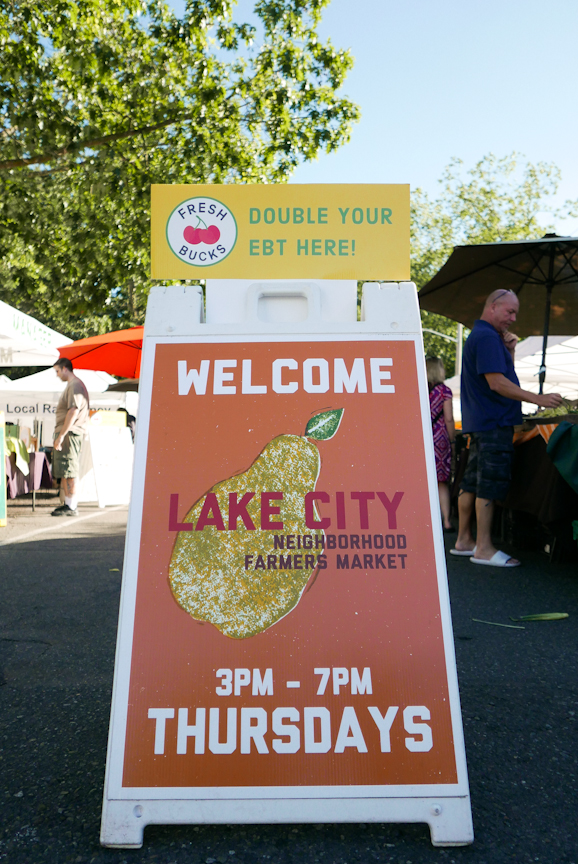 Walk the entire market at least once!
You know someone's a frequent market goer when they have a favorite farmer stand. I do! Years passed and some of my favorite vendors have left and replaced by another vendor selling the exact same thing. This year was no different and I was bummed but this is even more of a reason to always walk your entire market as soon as you get there. It's the best way to check out what's on sale! It's also a great way to find out new things at the market which is usually the cause of me going over our budget. Tsk tsk! As long as you have a list on-hand like I usually do, you'll be perfectly fine!
Today, I needed vegetables but I always try to fill up on market tomatoes because tomatoes from the grocery store gives me bad heartburn. There's a farm stand I frequently visit as they specialize in mostly tomatoes. I have a loyalty card from them and usually shop in their "Second-Chance" bins but then I saw this other vendor that offers almost half the rate on their "Second" tomatoes. Being a baller on a budget, I picked up some tomatoes at a stand I've never shopped before even though they've been at this market at least two years. As I was walking up to pay, I noticed their large bunches of lettuce and they were the only ones carrying a full head of lettuce that day. Perfect for salads, tacos, or sandwiches! Two giant lettuce heads for $5 and you can mix the different leaf kinds, too.
Russel usually likes the Red Leaf Lettuce and I don't care but to play up our salads, I got both! Their sale tomatoes were a bunch of different varieties. There was a kind that I grew one summer but didn't like because the skin was too tough. I picked up some giant red tomatoes and a couple of heirlooms. Some still firm to touch while the others are ready to turn into pasta sauce. This stand also sells fresh flower bouquets and I'm always tempted to buy one to liven up the house but I still prefer them in containers so I can keep them alive all year.
Say hi to your favorite farmers!
Though this isn't really much of a challenge, but let's just say you didn't need to buy anything from them that day, say hi anyway! I said hi to my favorite tomato stand but I couldn't buy from them today because I found a cheaper vendor and I'm on a budget. Though I was ready to fill up my loyalty card... Anyway, I need more fruits and vegetables so I checked out a couple of the farmers I frequent. One specifically for local fruits and I took two of each plum or else I'd have to share one plum with Russel. Picked up a lot of mini Gala apples and now looking forward to eating them with Cashew Butter. If you're a newbie, you can always ask to try a sample and they love to share their produce with you so you know exactly what you're buying!
I need more vegetables that serves well with hot dishes so I went over to the stand where my former favorite market used to be but now has a favorable vendor, too. They always have a clean display, and their bunches are neat! There were all kinds of kale going on and I was able to mix it up again. I got the curly kale variety and the other one that looks like a giant parsley! They were so hefty that it's definitely going to last a few meals. Sometimes when it's later towards the day, this stand is pretty good at giving discounts on their remaining produce also.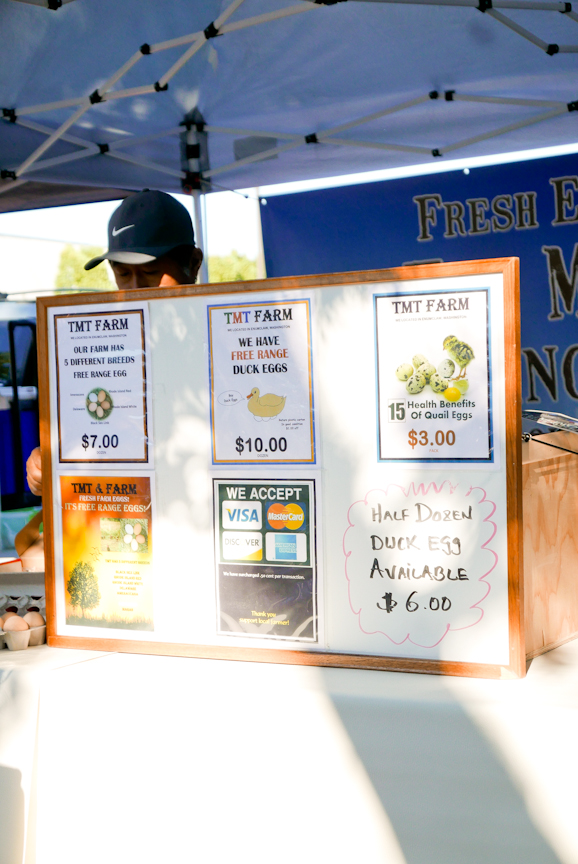 Plenty of online farmers market blog gurus will tell you to do your research. Check what's on sale at the grocery store, bring a grocery list, have your budget in cash, compare prices between vendors, arrive early for a better selection, or arrive later for discounts, and have an open-mind! Lucky me that we almost always have the staples at home: protein, garlic, onions, and potatoes. We use plenty of these that we have to buy them in bulk. My garden hasn't been as fruitful this year but I use what I've harvested and planned meals around them. So when you get to the market, you can stick to your list as much as possible but have an open mind to see what else is in season because you'll know it's fresh. If you don't know how to cook something, ask the vendor or someone shopping next to you. I mean this is how I was able to pass on my knowledge of Carrot Top Chimichurri Recipe. The shopper asked the vendor if they can remove the top before taking it home. The vendor was ready to do it until I suggested they make chimichurri out of it and turns out that the shopper loves the sauce on her steaks. Realizing this, she kept the carrot tops and I saved something from being wasted.
So this is the part where I tell you I completed the challenge and won so let's add it all up:
Veggies = $13.70
Fruits = $9
Eggs = $7
Yeah, that's not $20! Today, I spent a total of $29.70 at the market and I was really bummed because I went for the eggs but the thing is, I really wanted the eggs. I knew we only had 4 eggs left and we eat eggs for breakfast. I love farmers market eggs because I don't get itchy when I eat them. Yes, my skin reacts to regular grocery store eggs so it could be psychological but I found this out through Whole 30! That's another story, though. So I bought them and I'm going to savor them as long as possible and I don't regret going over the budget because the way I see it, I just spent $15 per person in our household to last us at least another week worth of meals. I wish I can do a blog of all the meals I can cook with all my market finds for proof...
I mean going to the market is an experience anyway. you're there to be with your community. They have special events such as an author showcasing vegetarian recipes from her new cookbook. The market also invites back past farmers and new. Then there are the food trucks and it's a different one each week but we all know we always get the Famous Quesadillas! As I walked home, I felt the weight of all my goods and it felt right. I might have spent more than I wanted to but I spent less than I would at a CO-OP or Whole Foods and I didn't even have to drive anywhere!
For the future, I hope the vendors consider using compostable bags. I try not to use any plastic bags anymore even at a grocery store, and to see it at a Farmers Market is very disappointing. If they will offer bags, at least use something that can be reused immediately. Plastic bags has to be bundled up with other plastic bags to be recyclable so that's just a food for thought! Also, there has to be another option to tie bunches of produce instead of the twisty wires. They go straight to the garbage since I can't reuse them when they get wet.